Hokkaido University Nuclear Reaction Data Centre (JCPRG)
Graph Suchi Yomitori System (GSYS2)
GSYS2
GSYS is the system in order to digitize the data on the figure such as experimental data on the printed matter.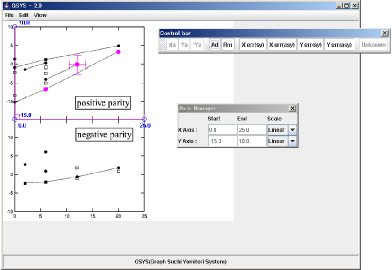 Install
Install Java Runtime Environment Ver. 1.4 or later, which is available at Java.com.
Right-click "Download", and save the target as "Gsys2.jar".
If the obtained file is named as "Gsys2.zip", must change it to "Gsy2.jar" (from Young-Ouk Lee, KAERI-NDEL, Thanks!).
Execute
Windows: Double-click "Gsys2.jar", otherwise type "java -jar Gsys2.jar" after DOS command prompt.
UNIX (Linux, FreeBSD etc.): Type "java -jar Gsys2.jar"
Note
Please use this system at your own risk.
It is not allowed to use this system for any kind of business purpose.
Copyright © 2005-2006 by Ryusuke SUZUKI
Copyright © 2005 by Koji Arai.